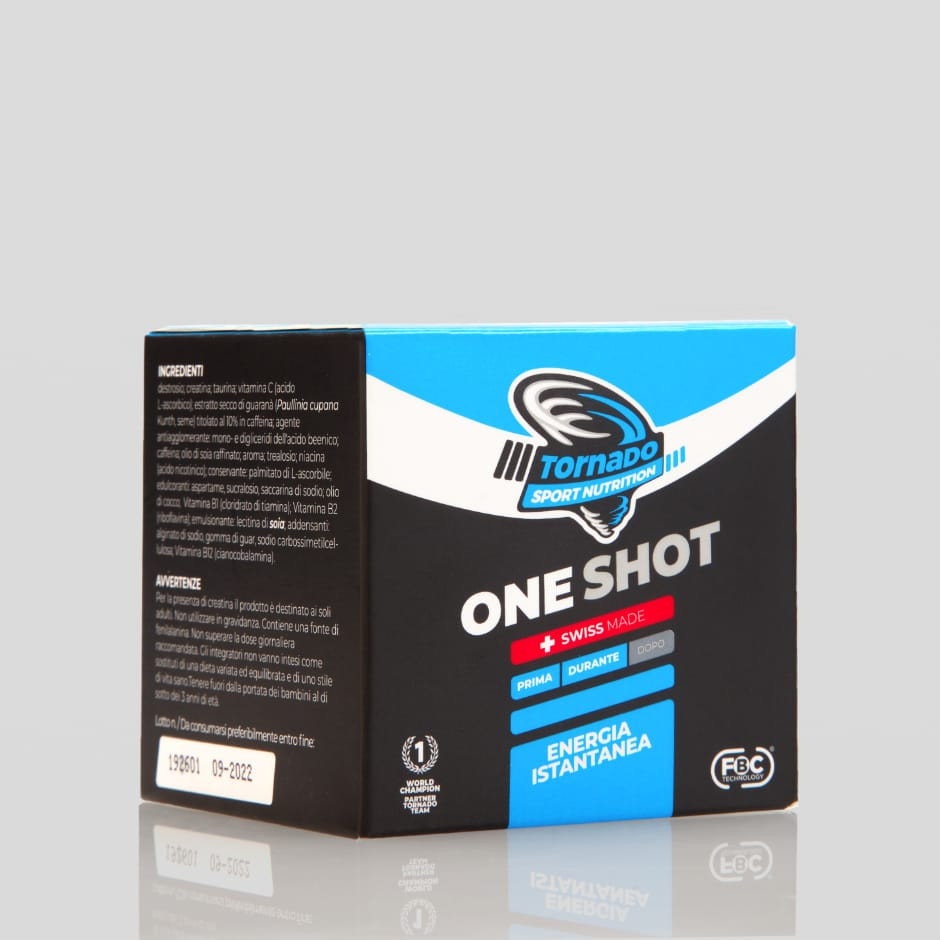 Innovative formula developed to maximize sports performance even in the most intense workouts. one shot is a concentrate of active ingredients such as creatine, taurine, guarana, caffeine and vitamins that stimulate energy metabolism and contribute to the reduction of tiredness and fatigue, both physical and mental.






Reference 8052286140163
Food supplement with tonic and energizing action containing creatine, taurine, guarana, caffeine and vitamins. Guarana extract has a tonic effect both for physical and mental fatigue, promotes lipid metabolism and is useful for the balance of body weight. Creatine increases physical performance in the case of repetitive sports activities, of high intensity and short duration. Vitamin C, niacin and vitamins B2 and B12 contribute to the reduction of tiredness and fatigue and, together with vitamin B1, are useful for promoting energy metabolism. ONE SHOT is also indicated to improve endurance performance in endurance sports, thanks to the presence of caffeine.

The Vitamin C contained in ONE SHOT is protected with patented LSC® Microcaps (Lipophilic Spray Cooling) technology which makes it highly bioavailable and slow release. Creatine is microencapsulated with FBC® (Fluid Bed Coating) technology which ensures a gradual release and maximizes absorption.
Format: 10 chewable tablets in strip.

Flavour: arancia.

Warnings: Due to the presence of creatine the product is intended for adults only. Contains a source of phenylalanine. Do not exceed the recommended daily dose. The supplements are not intended as a substitute for a varied and balanced diet and a healthy lifestyle. Keep out of reach of children under 3 years of age. Contains caffeine (40 mg per chewable tablet). Not recommended for children, pregnant and breastfeeding.
Storage: Keep in a cool, dry place, at room temperature, away from heat and moisture. The minimum storage term refers to the product in intact packaging and properly stored. Do not dispose of in the environment after use.
Dextrose; creatine; taurine; vitamin C (L-ascorbic acid); dry extract of guarana (Paullinia cupana Kunth, seed) titrated to 10% in caffeine; anti-caking agent: mono- and diglycerides of beech acid; caffeine; refined soybean oil; aroma; trehalose; niacin (nicotinic acid); preservative: L-ascorbyl palmitate; sweeteners: aspartame, sucralose, sodium saccharin; coconut oil; Vitamin B1 (thiamine hydrochloride); Vitamin B2 (riboflavin); emulsifier: soy lecithin; thickeners: sodium alginate, guar gum, sodium carboxymethylcellulose; Vitamin B12 (cyanocobalamin).
| | | |
| --- | --- | --- |
| Average values | Per dose (1 chewable tablet) | % VNR* per dose |
| Creatine | 300 mg | - |
| Taurine | 300 mg | - |
| Vitamin C | 80 mg | 100 |
| Guarana | 67,5 mg | - |
| Caffeine | 40 mg | - |
| Niacin | 16 mg | 100 |
| Vitamin B1 | 2,0 mg | 181,8 |
| Vitamin B2 | 2,0 mg | 142,8 |
| Vitamin B12 | 23 mcg | 920 |
*VNR: reference nutritional values
Customers who bought this product also bought: