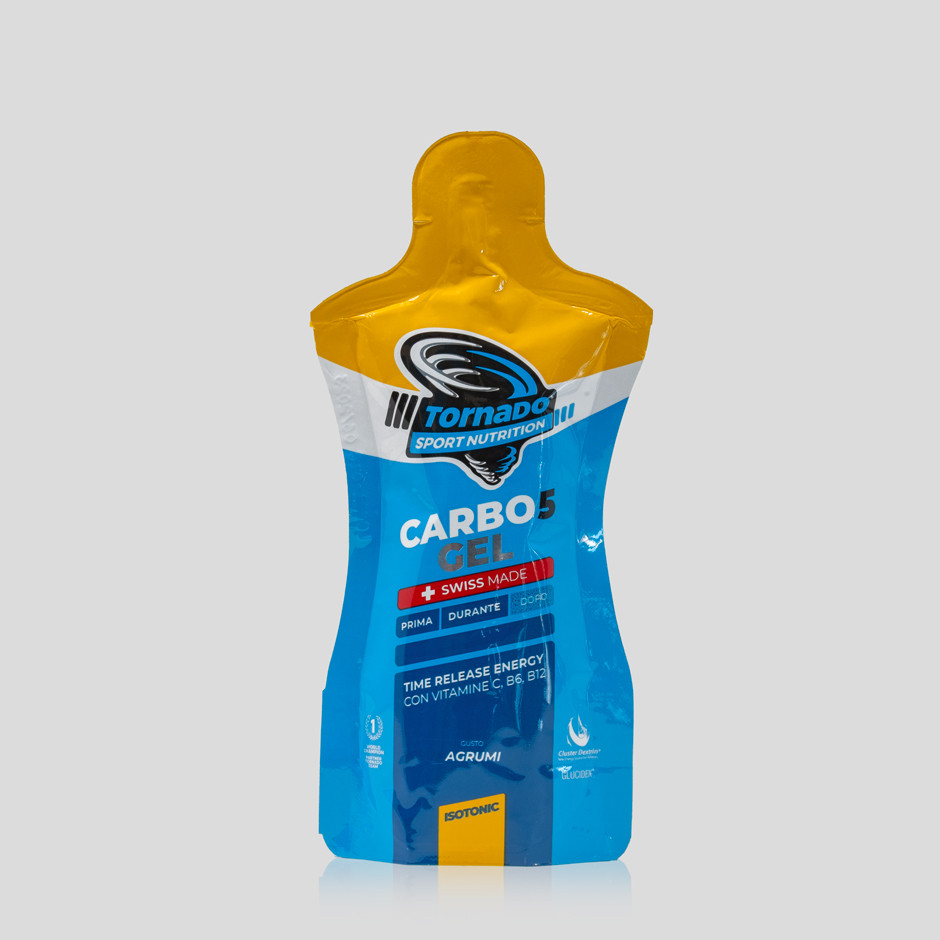 CARBO5 GEL is made of 5 different types of carbohydrates (CLUSTER DEXTRIN®, MALTODEXTRINE GLUCIDEX® D9 and D19, DEXTROSE and ISOMALT) capable of providing the body with instant and prolonged energy over time. Vitamin B6 promotes the metabolism of proteins and glycogen and, in synergy with vitamins C and B12, supports a correct energy metabolism, counteracting tiredness and fatigue.

     • 5 DIFFERENT CARBOHYDRATES
     • DIFFERENTIATED RELEASE ENERGY
     • DOES NOT REQUIRE WATER AFTER USE
     • WITH VITAMINS C, B6 AND B12
     • GLUTEN AND LACTOSE FREE
CARBO5 GEL is a new generation energy food supplement specially designed for endurance sports: 5 different energy sources capable of giving an immediate response and gradual and prolonged release thanks to the presence of simple and complex carbohydrates. The perfect combination with vitamins C, B6 and B12 is specifically designed to promote energy metabolism, fighting tiredness and fatigue and thus increasing the duration of performance; its isotonic formula does not require the intake of water after use.
Format: single-dose sachet of 50 ml
Warnings: do not exceed the recommended daily dose. Supplements are not intended as a substitute for a varied and balanced diet and a healthy lifestyle. Keep out of the reach of children under 3 years of age. Excessive consumption can have laxative effects.
Storage: store in a cool, dry place at room temperature. Avoid exposure to sources of heat and humidity and direct sunlight. The minimum conservation term refers to the product in intact and correctly stored packaging. Do not disperse in the environment after use
Water; dextrose; highly branched cyclodextrins (Cluster Dextrin®); bulking agent: isomalt; maltodextrin (Glucidex®); acidifier: malic acid; vitamin C (L-ascorbic acid); aroma; Vitamin B6 (Pyridoxine hydrochloride); Vitamin B12 (Cyanocobalamin)
| | | | |
| --- | --- | --- | --- |
| Average Values | Per 100 ml | Per dose (50 ml) | % NRV* (per dose) |
| Energy | 182 kcal /760 kJ | 91 kcal / 380 kJ | -                          |
| Fat | 0 g | 0 g | - |
|   of which saturated fatty acids | 0 g | 0 g | - |
| Carboidrati | 48 g | 24 g | - |
|   di cui zuccheri | 20 g | 10 g | - |
|   di cui polialcoli | 6,8 g | 3,4 g | - |
| Proteine | 0,024 g | 0,012 g | - |
| Sale | 1,03 g | 0,52 g | - |
| Vitamina C | 360 mg | 180 mg | 225 |
| Vitamina B6 | 20 mg | 10 mg | 714 |
| Vitamina B12 | 24 µg | 12 µg | 480 |
 NRV*: reference nutritional values

 It is recommended to take 1 sachet of 50 ml per day
Customers who bought this product also bought: