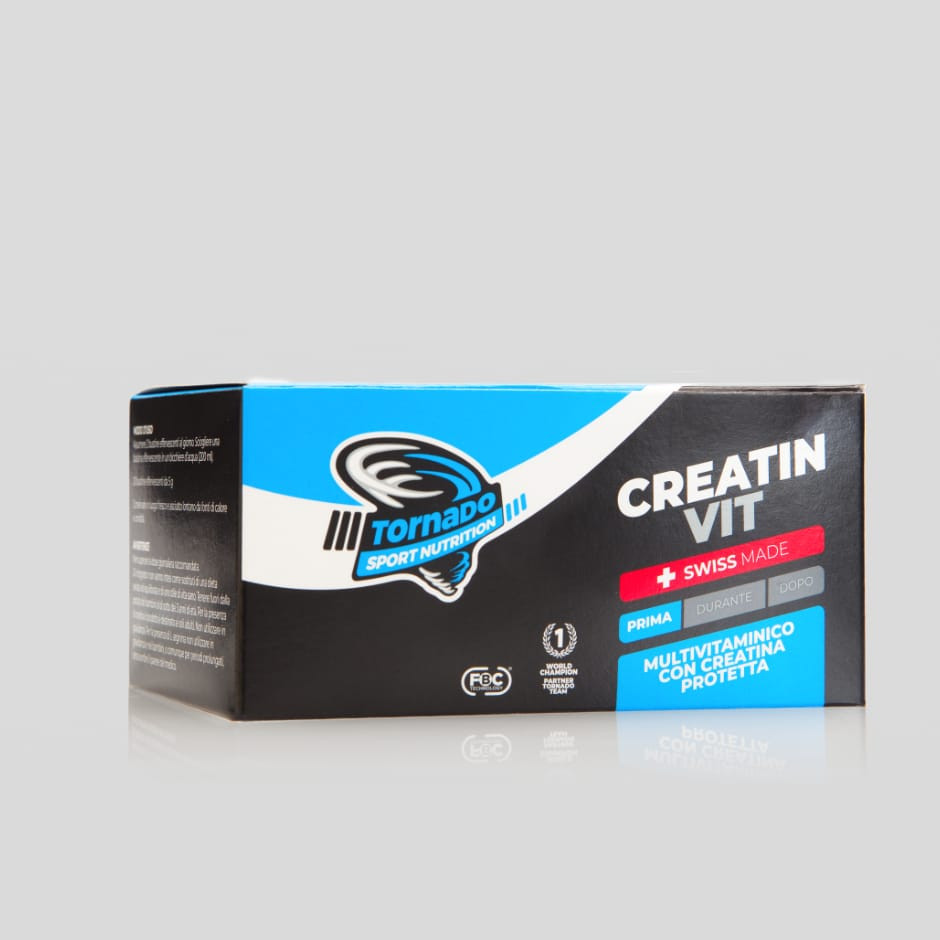 Creatine monohydrate and Highly bioavailable L-Arginine, vitamins, and mineral salts. Increases strength, mass and muscle strength and facilitates recovery after repetitive, high intensity and short duration physical performances. promotes the explosiveness of the sporting gesture.




Reference 8052286140095
Food supplement based on protected, highly bioavailable creatine, vitamins and mineral salts. Creatine favors the increase of phosphocreatine, the energy reserve of muscle tissue for the brief but very intense maximal effort; increases lean mass, enhances endurance and strength by improving sports performance. Vitamin C contributes to the maintenance of the normal function of the immune system during and after an intense physical effort and, together with vitamins B6, B12 and iron, contributes to normal energy metabolism and to the reduction of tiredness and fatigue. Magnesium contributes to electrolyte balance and normal muscle function. CREATINVIT is an effective supplement for all types of sports, especially for anaerobic sports. Ideal for those who practice fitness, weight lifting and body building and who want to increase muscle strength and endurance, as well as make the muscle more aesthetically pleasing. In sports that require extremely expensive maximum efforts (sprints and sprint races) in a short time, creatine supplementation promotes the explosiveness of the gesture and reduces muscle damage caused by stress, speeding up recovery.

The absorption of Creatine and L-arginine is optimized by the innovative protection with FBC® (Fluid Bed Coating) technology that ensures a gradual release, high bioavailability and maximum effective- ness.
Format: 20 effervescent sachets of 5 g.


Warnings: Do not exceed the recommended daily dose. The supplements are not intended as a substitute for a varied and balanced diet and a healthy lifestyle. Keep out of reach of children under 3 years of age. Due to the presence of creatine the product is intended for adults only. Do not use during pregnan- cy. For the presence of L-arginine do not use in pregnancy and in children, or in any case for prolonged periods, without hearing the opinion of the doctor.

Storage: Keep in a cool, dry place, at room temperature, away from heat and moisture. The mini- mum storage term refers to the product in intact packaging and properly stored. Do not dispose of in the environment after use.
Acidifier: citric acid; acidity corrector: sodium bicarbonate; maltodextrin; Lipofer® (corn starch, ferric pyrophosphate, sunflower lecithin); Vitamin C (L-ascorbic acid); aroma; sweetener: sodium cyclamate; dye: beetroot red, betanin; sweetener: sodium saccharin; bulking agent: sorbitol; preparation of vitamin D3 (cholecalciferol, fats, corn starch, gelatin, sucrose, antioxidant: DL-alpha-tocopherol); Vitamin B2 (Riboflavin 5′-phosphate, sodium); Vitamin B6 (Pyridoxine hydrochloride); Folic acid (pteroyl monoglutamic acid); Vitamin B12 (Cyanocobalamin).
| | | |
| --- | --- | --- |
| Avarage values | Per dose (2 effervescent sachets)   | %NRV* per dose |
| Creatine | 3000 mg | - |
| L-arginine | 500 mg | - |
| L-carnitine | 200 mg | - |
| Vitamin C | 60 mg | 75 |
| L- glutathione | 40 mg | - |
| Iron | 14 mg | 100 |
| Vitamin E | 10 mg | 83,3 |
| Vitamin B6 | 2 mg | 142,9 |
| Vitamin B1 | 1,4 mg | 127,3 |
| Folic acid | 200 mcg | 100 |
| Selenium | 55,2 mcg | 100,4 |
| Vitamin B12 | 1 mcg | 40 |
| Magnesium | 100 mg | 26,7 |
*NRV: reference nutritional values
2 effervescent sachets a day. Dissolve an effervescent sachet in a glass of water (200 ml).
Customers who bought this product also bought: