Before
Tornado Gel - Tropical
There are not enough products in stock
€2.27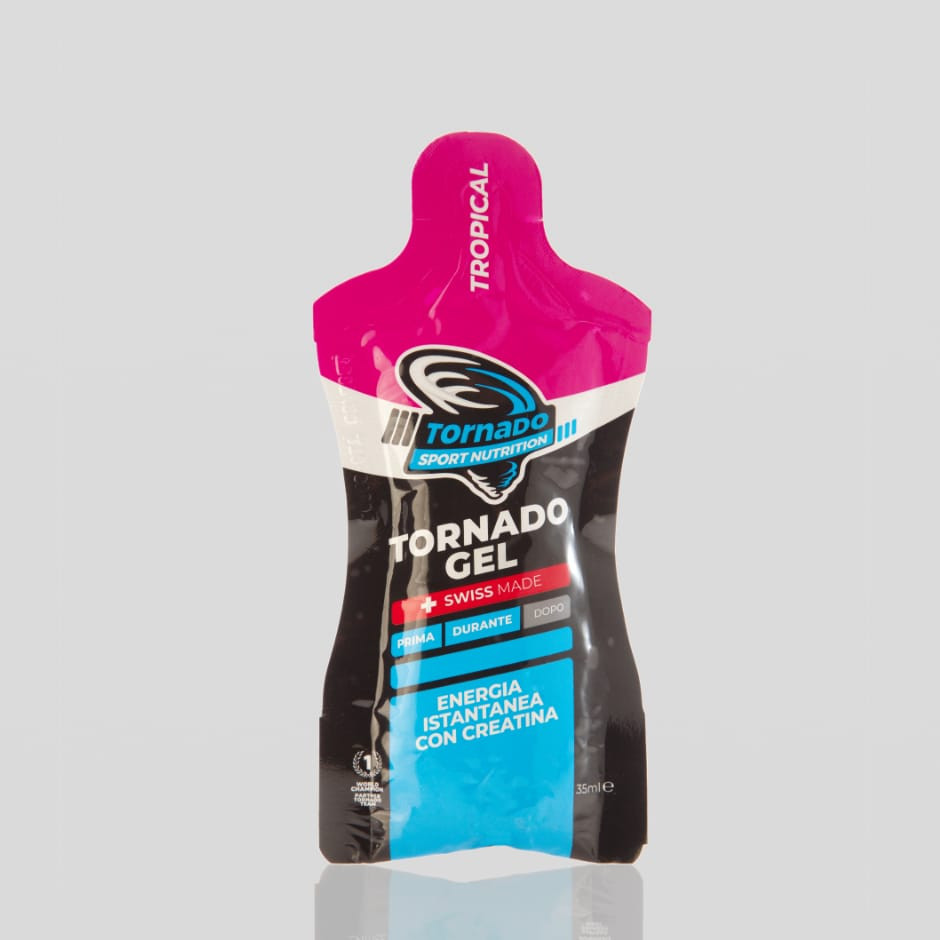 Rapid energy concentrate that improves physical performance, fighting tiredness and fatigue during sports performance.






Reference 8052286140200
New generation food supplement based on slow and rapid absorption carbohydrates in combination with creatine, inulin, vitamin C and mineral salts. A ready-to-use energy recharge designed to improve physical performance in all aerobic and prolonged discipli- nes. TORNADO GEL was developed with an isotonic formula that does not require the concomitant intake of water, thus eliminating the burden due to the continuous supply of liquids during physical activity, and able to by-pass the gastric barrier, guaranteeing a high bioavailability and ra- pid action. The addition of creatine reduces the accumulation of lactic acid and increases protein synthesis. Inulin improves digestion by promoting intestinal transit and vitamin C contributes to normal energy metabolism, reducing fatigue and fatigue.
Format: Gel in a single-dose flask of 35 ml.

Warning: Do not exceed the recommended daily dose. The supplements are not in- tended as a substitute for a varied and balanced diet and a healthy lifestyle. Keep out of reach of children under 3 years of age. Due to the presence of creatine the product is intended for adults only. Do not use during pregnancy.

Storage: Keep in a cool, dry place, at room temperature, away from heat and moisture. The minimum storage term refers to the product in intact packaging and properly stored. Do not dispose of in the environment after use.
Water; maltodextrin; acidifier: anhydrous citric acid; dextrose; creatine; po- tassium carbonate; inulin; vitamin C (L-ascorbic acid); acidity corrector: sodium bicarbonate; ma- gnesium carbonate; calcium carbonate; thickeners: guar gum, xanthan gum; sweetener: steviol glycosides; aroma; dye: E141.
NUTRITION FACT
Average Values
Per 100 ml
Per dose (3 sachets)
%VNR* per dose
Energy
14,83 kcal / 62,40 kJ
15,57 kcal / 65,52 kJ
-
Fat
0 g
0 g
of which saturated fatty acids
0 g
0 g

Carbohydrates

2,740 g
2,877 g
-
of which sugars
0,780 g
0,819 g
-
Fiber
0,600 g
0,630 g
-
Protein
0,014 g
0,015 g
-
Salt
0,029 g
0,030 g
-
Potassium
286 mg
300 mg
15
Magnesium
53,6 mg
56,28 mg
15
Vitamin C
500 mg
525 mg
656
Inulin
500 mg
525 mg
-
Creatine
500 mg
525 mg
-
*VNR: reference nutritional values
1 to 3 flasks a day as it is, as needed.
Accessories
Customers who bought this product also bought: