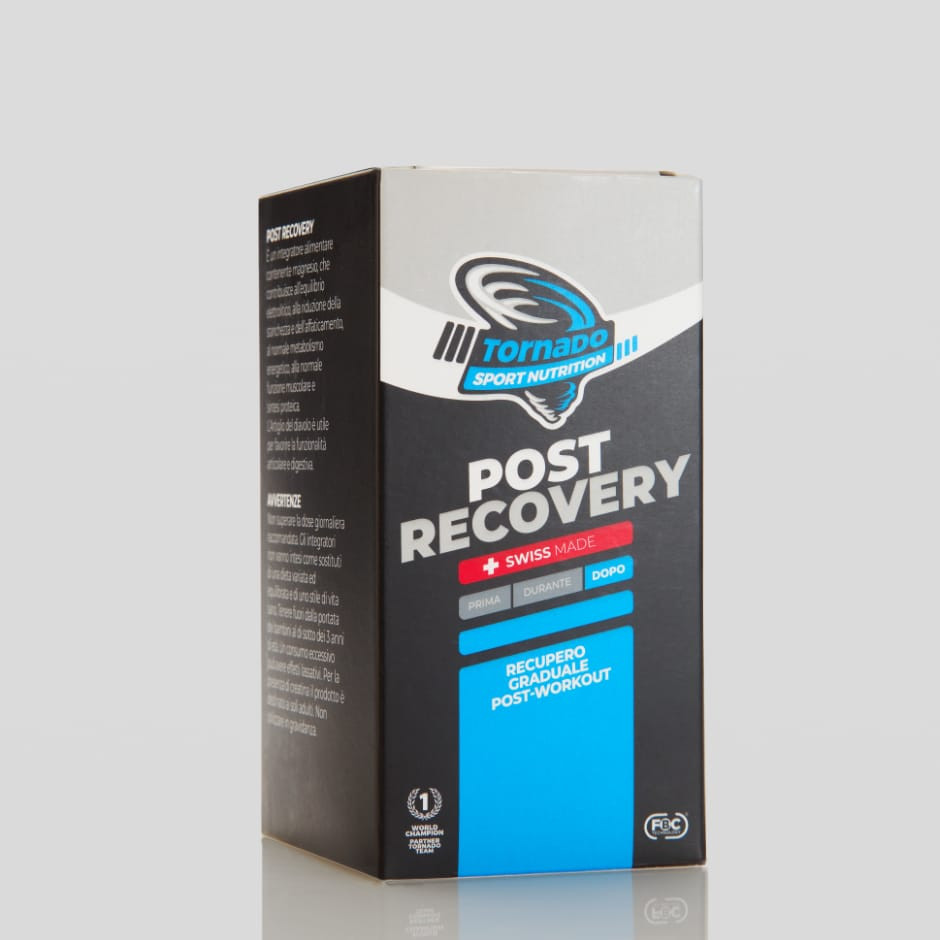 Complex of repairers, specifically formulated for a second recovery phase aimed at post-workout muscle and joint rehabilitation.





Reference 8052286140071
Dietary supplement based on glucosamine, chondroitin sulphate, methylsulfonylmethane (MSM) and devil's claw, useful nutrients to promote rapid muscle and joint repair, improving recovery after sporting activity. Magnesium contributes to normal muscle function, electrolyte balance, reduction of tiredness and fatigue. Creatine promotes the increase in muscle mass, improving endurance and recovery after an intense physical effort. The protected betaine contributes to the normal metabolism of homocysteine and exerts a high antioxidant action. The digestive function is favored by the presence of the devil's claw.

The functionality of Creatine and Betaine is enhanced thanks to the special protection with FBC® technology (Fluid Bed Coating) which ensures a gradual release and maximum absorption, increasing bioavailability.
Format: 20 chewable tablets of 2.5 g, packed in strips.

Flavour: cool orange

Warnings: Do not exceed the recommended daily dose. The supplements are not inten- ded as a substitute for a varied and balanced diet and a healthy lifestyle. Keep out of reach of chil- dren under 3 years of age. Excessive consumption can have laxative effects. Due to the presence of creatine, the product is intended for adults only. Do not use during pregnancy

Storage: Keep in a cool, dry place, at room temperature, away from heat and moisture. The minimum storage term refers to the product in intact packaging and properly stored. Do not dispose of in the environment after use.
Sweetener: isomalt; dextrose; magnesium oxide; creatine; betaine; glucosamine sulfate 2 KCl (from shellfish); chondroitin sulphate (from fish); methylsulfonylmethane; thickener: guar gum; anti-caking agent: mono- and diglycerides of beech acid; devil's claw preparation (dry extract of devil's claw (Harpagophytum procumbens (Burch.) DC, root) titrated to 1.5% in harpagoside, maltodextrin); aromas; trehalose; antioxidant: glycine; sweeteners: sucralose, steviol glycosides; gelling agent: sodium alginate.
| | | |
| --- | --- | --- |
| Average values | Per dose (2 chewable tablets) | % VNR* per dose |
| Glucosamine | 320 mg | - |
| Chondroitin | 320 mg | - |
| Magnesium | 300 mg | 80 |
| Methylsulfonylmethane (MSM) | 160 mg | - |
| Creatine | 400 mg | - |
| Betaine | 400 mg | - |
| Devil's claw | 40 mg | - |
| of which Arpagoside | 0,6 mg | - |

*VNR: reference nutritional values
1-2 chewable tablets a day, within 1 hour of the end of physical activity.
Customers who bought this product also bought: