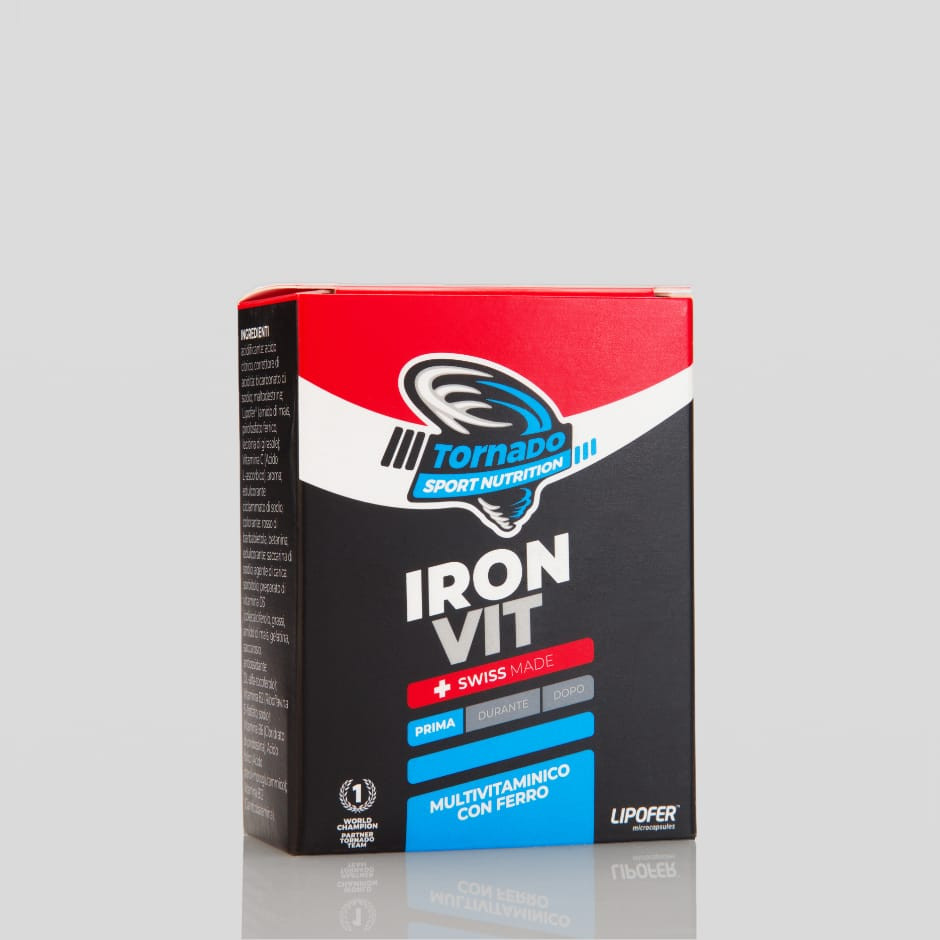 Source of iron and vitamins to combat tiredness and fatigue, promote energy metabolism, allowing the transport of oxygen in the body, and increase reactive capacity. fundamental to counter deficiency states and/or increased non pathological needs, such as sports resistance performance.






Reference 8052286140118
Food supplement containing Lipofer®, a micronized and microencapsulated iron source with a very high absorption index and high bioavailability; the combination with vitamin C will further favors the assimilation. Vitamins C, B2, B6 and B12 contribute to the normal function of the immune system; vitamin D promotes the absorption of calcium and phosphorus and contributes to the maintenance of normal muscle function and healthy bones.
Format: 2 tubes of 10 effervescent tablets.

Warnings: Do not exceed the recommended daily dose. The supplements are not in- tended as a substitute for a varied and balanced diet and a healthy lifestyle. Keep out of reach of children under 3 years of age.

Storage: Keep in a cool, dry place, at room temperature, away from heat and moisture. The minimum storage term refers to the product in intact packaging and properly stored. Do not dispose of in the environment after use.
Acidifier: citric acid; acidity corrector: sodium bicarbonate; maltodextrin; Lipofer® (corn starch, ferric pyrophosphate, sunflower lecithin); Vitamin C (L-ascorbic acid); aroma; sweetener: sodium cyclamate; dye: beetroot red, betanin; sweetener: sodium saccharin; bulking agent: sorbitol; preparation of vitamin D3 (cholecalciferol, fats, corn starch, gelatin, sucrose, antioxi- dant: DL-alpha-tocopherol); Vitamin B2 (Riboflavin 5′-phosphate, sodium); Vitamin B6 (Pyridoxine hydrochloride); Folic acid (pteroyl monoglutamic acid); Vitamin B12 (Cyanocobalamin).
| | | |
| --- | --- | --- |
| Average values | Per dose (2 effervescent tablets) | % VNR* per dose |
| Iron | 28 mg | 200 |
| Vitamin C | 200 mg | 250 |
| Vitamin D | 20 mcg | 400 |
| Vitamin B6 | 2,8 mg | 200 |
| Folic acid | 400 mcg | 200 |
| Vitamin B12 | 6 mcg | 240 |
| Vitamin B2 | 2,92 mg | 208 |
*VNR: reference nutritional values
2 effervescent tablets a day. Dissolve an effervescent tablet in a glass of water (200 ml).
Customers who bought this product also bought: