Before
VITC - Wild berries
There are not enough products in stock
€9.09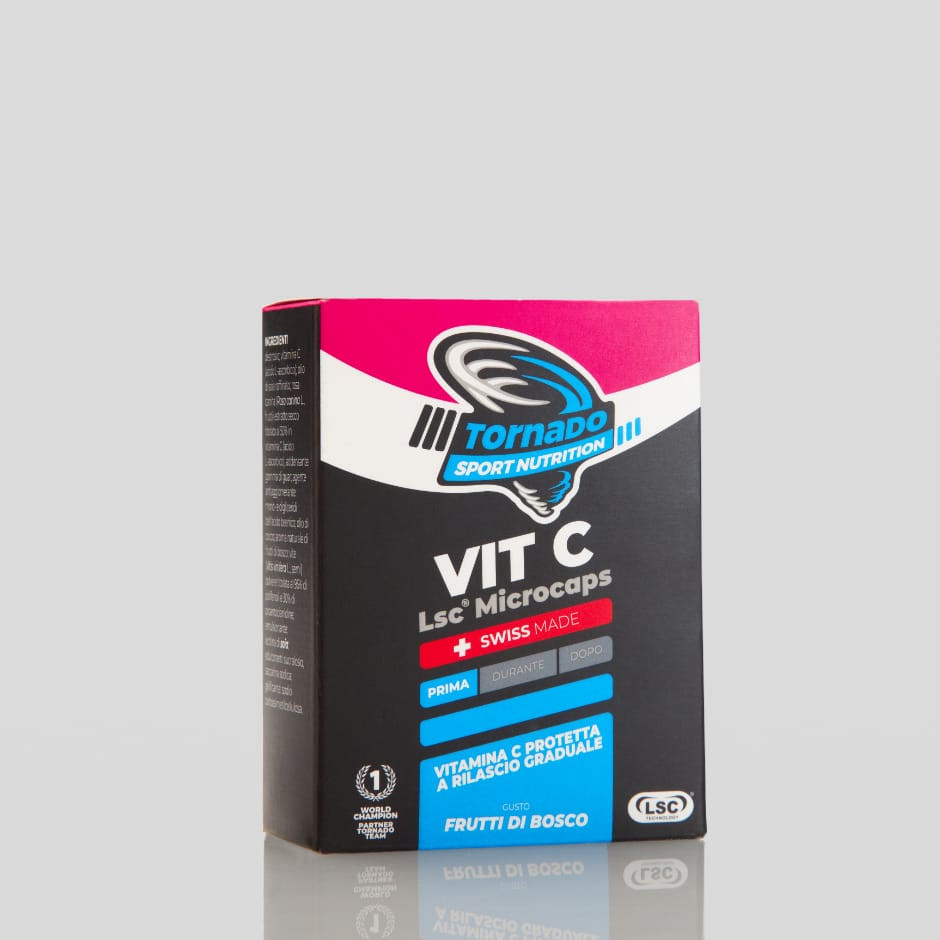 Vitamin c protected with patented lsc® microcaps (lipophilic spray cooling) technology, in a highly bioavailable and slow-release form. vitamin c contributes to the maintenance of the normal function of the immune system, especially during and after an intense physical effort, protects the cells from oxidative stress and helps to reduce tiredness and fatigue.





Reference 8052286140156
A vitamin C food supplement that stimulates the immune system, modulating allergies and inflammatory processes and, thanks to its antioxidant action, helps eliminate free radicals that can form during intense and prolonged physical efforts and fight the cellular aging. Vitamin C also stimulates the synthesis of collagen, favoring the healing and functionality of blood vessels, bones and cartilages particularly subjected to stress in people who practice sports activities of both power and endurance. VITC also contains grapevine and rosehip, substances that with synergistic action are able to improve the absorption and bioavailability of vitamin C. The grapevine also promotes the functionality of the cardiovascular system and fights microcirculation disorders, giving relief and well- being to tired, heavy and swollen legs. The rosehip is a medicinal plant very rich in flavonoids and natural Vitamin C, with a tonic and antioxidant action and an improvement of intestinal regularity.
Format: 2 tubes of 10 chewable tablets.

Warnings: Do not exceed the recommended daily dose. The supplements are not in- tended as a substitute for a varied and balanced diet and a healthy lifestyle. Keep out of reach of children under 3 years of age.

Storage: Keep in a cool, dry place, at room temperature, away from heat and moisture. The minimum storage term refers to the product in intact packaging and properly stored. Do not dispose of in the environment after use.
Dextrose; vitamin C (L-ascorbic acid); refined soybean oil; rosehip (Rosa canina L., fruits) dry extract titrated 50% in vitamin C (L-ascorbic acid); thickener: guar gum; an- ti-caking agent: mono- and diglycerides of behenic acid; coconut oil; natural aroma of wild berries; grapevine (Vitis vinifera L., seeds) powder titled at 95% of polyphenols and 30% of proanthocya- nidins; emulsifier: soy lecithin; sweeteners: sucralose, sodium saccharin; gelling agent: sodium carboxymethylcellulose.
Nutrition Facts 

Average values

Per dose (2 chewable tablets)

%NRV* per dose

Vitamin C

900 mg

1125

Rosehip

900 mg

-

  of which vitamin C

100 mg

125

Grapevine

19,95 mg

-

  of which proanthocyanidins

6,3 mg

-
*NRV: reference nutritional values
1-2 chewable tablets a day
Customers who bought this product also bought: